Peter Salerno Inc. Kitchen Design Ideabook for Pantone Spring 2017 Colors
Now that Design Your Lifestyle's 5-part series on the Pantone Spring 2017 color palette is complete, it's time to take those colors off the page and into action!
We've enlisted the help of our parent company, Peter Salerno Inc., to create an ideabook for stunning kitchen designs based on four of their favorite colors from Pantone's Spring 2017 collection. From Niagara to Hazelnut, Kale to Lapis Blue, Peter Salerno and his staff have once again left us raving with their custom kitchen designs.
Peter Salerno Inc. has established itself as the most award-winning North American custom kitchen and bath design company since 2002, with a remarkable 35 awards from notable names like the NKBA (and KBIS), Sub-Zero, Wolf, HGTV, and Signature Kitchens and Baths. Peter and his staff focus on creating a luxurious and functional spaces that compliment your lifestyle. Whether a kitchen, master bath, or wine cellar, they incorporate your personality, passions, and hobbies into our design to create a finely tailored living space for you and your family.
(For more Peter Salerno Inc. award-winning kitchen and bath designs, check out their official Pro listing on Houzz.)
Now, on with the official Peter Salerno Inc. kitchen design ideabook for Pantone's Spring 2017 color collection!
Peter Salerno Inc. Kitchen Designs: Pantone Spring 2017 Inspirations
1. Color: Kale; Custom Kitchen Design:"The Artist's Palette"
Peter Salerno and his team utilized Kale (18-0107 TCX) as an accent color in "The Artist's Palette", an eclectic kitchen design with several signature features. The matching panels and custom range hood are an instant conversation starter, while the far wall has a Rothko-inspired print that adds a hint of red-orange to the design (reminiscent of Flame, another Spring 2017 Pantone color.)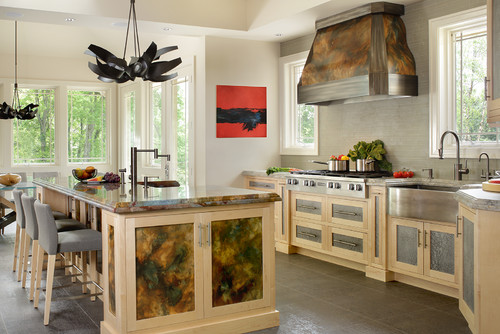 2. Color: Niagara; Custom Kitchen Design: "Reflections"
Featured in a late 2016 edition of Bergen Magazine, the Peter Salerno Inc. "Reflections" kitchen design wowed with denim-based blue in the vein of Niagara (17-4123 TCX), a staple of the Pantone Spring 2017 collection. The addition of dark flooring and smoked mirrors along the refrigerator and cabinetry make this a perfect kitchen design for tranquil daydreamers.
3. Color: Hazelnut; Custom Kitchen Design: "A Classical Traditional"
Somewhere around Summer/Fall 2016, neutrals stopped being accessories and started becoming the main event of many home designs. Such is the case with this classic traditional kitchen design from Peter Salerno Inc., featuring a rich collection of taupes and tans, including Hazelnut (14-1315 TCX).
4. Color: Lapis Blue; Custom Kitchen Design: "La Cornue Showroom Centerpiece"
Laps Blue (19-4045 TCX) features prominently in Peter Salerno Inc.'s centerpiece kitchen design at their flagship showroom in Wyckoff, New Jersey. Complete with a stunning La Cornue Grand Palais range, custom range hood and opulent center island, this kitchen utilizes Lapis Blue in several ways – notably, the decadent crystals embedded in the recessed ceiling above the center island.
To request more information or speak to Peter Salerno and his team of expert design professionals, call Peter Salerno Inc. at (201) 251-6608 or fill out this contact form.